4 Steps to Automatically Scaling Apple Ads Campaigns
In this article, we will look at how AppAds's automation rules can assist you to free up operating time so you can focus on your strategy.
Home
ASA Blogs
Are you looking for an easy-to-use ad bidding tool that allows you to handle various complex campaigns with ease? Are you looking for an assistant that can get you out of the boring and repetitive marketing? Manually performing all of these tasks on a daily basis can be time-consuming and difficult. What if we said we'd do all of your manual labour on your behalf? Automation rules are beneficial since they eliminate human mistake and save time on regular activities.
In this article, we'll look at how AppAds can assist you free up operating time so you can focus on your strategy.
Let's have a look at how automation rules may make your app ads works easier:
Analyzes all of your data from every activity. Tracks all changes based on the action frequency you've already defined.

Notifies you about the rules you've set up for certain actions based on situations.

Automatically increases, reduces, or pauses keyword bids based on their performance.

Based on the constraints you provide, it adds search phrases from your discovery campaign as keywords to other ads.
In terms of App Store search phrases, what you would generally do for discovery campaigns is filter the data you received from Apple on an excel sheet. And then adding those that meet your criteria to the campaigns you desire. We can handle it for you.
Controlling Every Ad Element Using Automation Rules
There are several action kinds in each ad element. You may set them based on your requirements and establish rules for each ad element from any ad element you want.
Decide how frequently the action should be conducted and under what conditions it will be used. Everything impacting your decision-making process will be automated. All you have to do is tell the automation rules what to do!
Rule 1: Increasing the Bid
Assume you have a low number of impressions while having hundreds of keywords. As a User Acquisition Manager, you aim to solve this problem. All of the processes are difficult and complicated, but you can quickly solve the problem by making an assistant for yourself!
There are two reasons for this, as you are aware. Your keywords are either irrelevant or your bid amount is insufficient. Essentially, you should spend more to observe the true performance of these terms. All you have to do is raise your bid price to get a greater impression and download. Our automated rules take care of it.
As demonstrated in the picture below, the easiest approach is: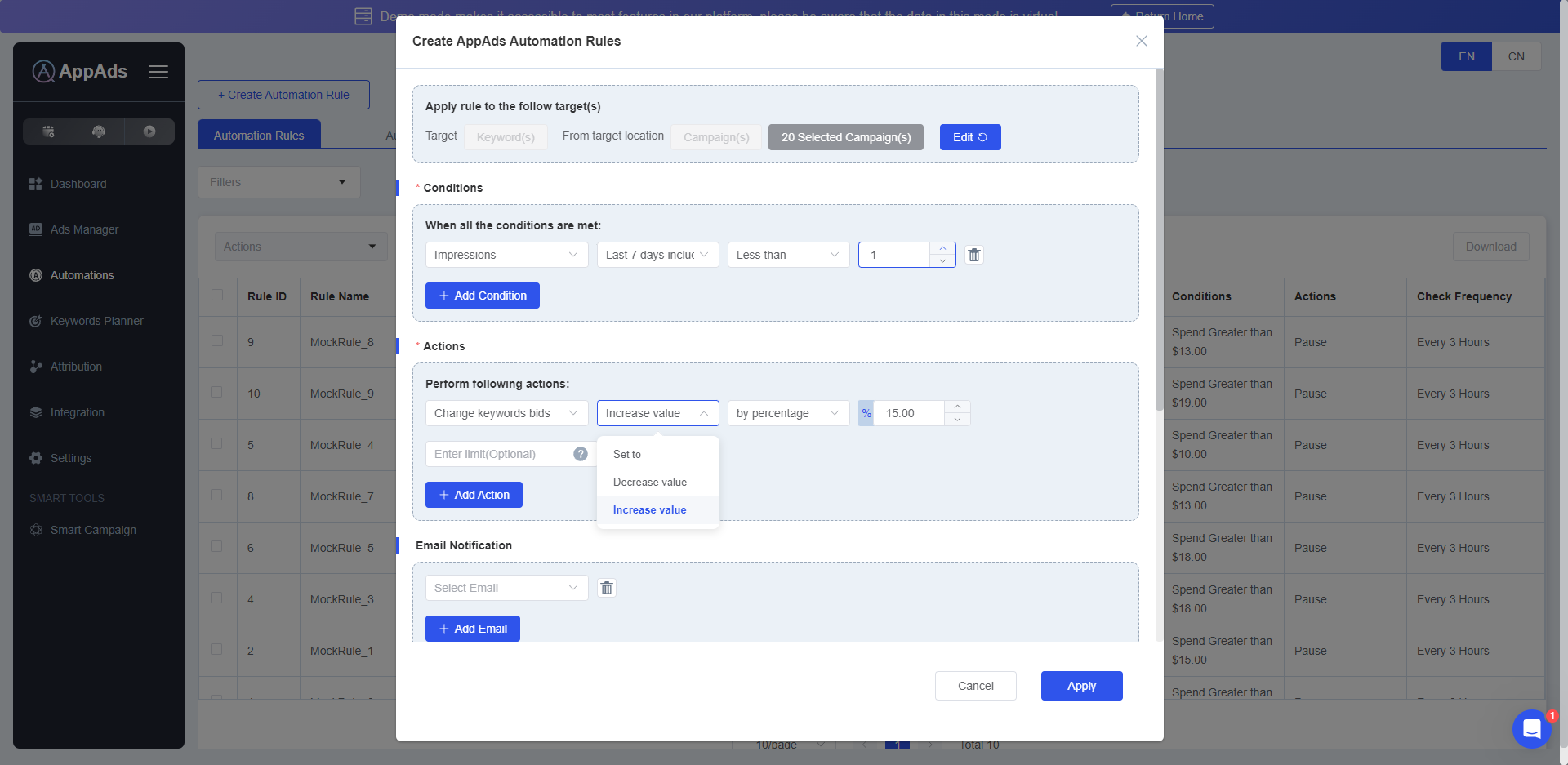 Assume your low impression threshold is 1. You may create a condition such as: if your impression is less than one, increase the offer by 15%, and the bid cap is $3. For this scenario, the action will be conducted automatically for all terms in a pre-selected Apple Search Ads campaign, and you will be alerted via the e-mail address you provided. After assessing your performance, you may eliminate some days to improve it, since some days are better for increasing your bid.
Rule 2: Adding Keywords as Negatives
If you discovered that your keywords are not working effectively and are not bringing in enough ROAS to your applications since consumers who come from these keywords instantly delete your app. Normally, you would manually include things as negatives, but you no longer have to worry about spending hours. Your support is once again at your disposal! It will assist you in automatically adding low-performing keywords as negatives.
Assume that your keywords must have a 120% ROAS in order to be profitable. You do, however, have keywords with ROAS of less than 80%. You can provide a criterion such as "include your keywords as negative keywords if their ROAS is less than 80%." The action will be executed automatically for all keywords in a certain campaign that you may pick from the create rules section for this condition.
You may also change the time window by choose the time span you want to study. Let's see what we can do to add: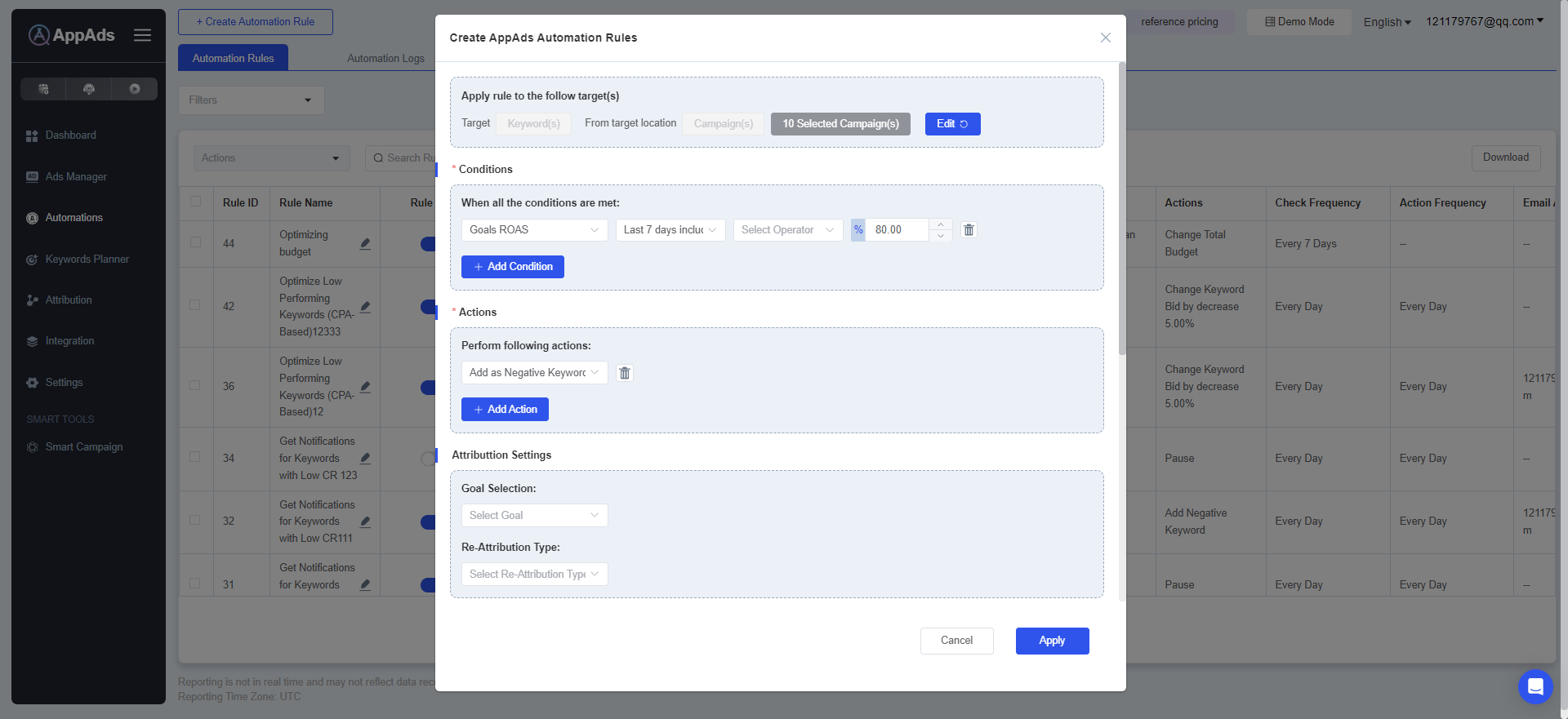 Rule 3: Decreasing the Bid
Suppose that you are not satisfied with your ROAS as it doesn't meet your expectation this month. But you don't want to add these keywords as negatives and try to find other possible solutions. You recognize that there is another option to check whether they are going to perform well or not: decreasing the bid. However, decreasing the bid manually is again a time-consuming activity. You can focus on improving your Apple Search Ads strategies instead of wasting your time on these minor details.
Let's say your maximum amount for CPA is $3. You can set a condition as "if your CPA is greater than $3, then decrease the bid by 12%."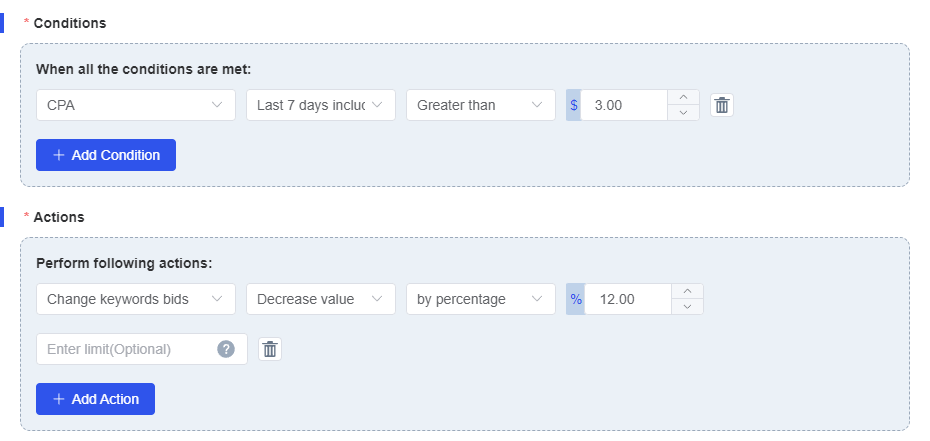 For this circumstance, the condition is going to be checked every 12 hours as we set a custom check frequency. Then the action is going to be taken once a day automatically for all keywords in a specific ad group we have already selected from the "Create rules" section.
Rule 4: Pausing the Keywords
Assume you have a high CPA but aren't receiving enough conversions from those keywords. You've most likely exhausted all options and opted to halt the keywords once and for all since you don't want them to eat up your money.
Your support halts them without your involvement. The only manual work required is to create rules based on your condition-action.
Assume your maximum CPA amount is $5. You may set a condition such as: halt the keyword if your CPA is more than 5. The action will be executed automatically for all keywords in a certain organization that we have already picked from the create rules section for this condition.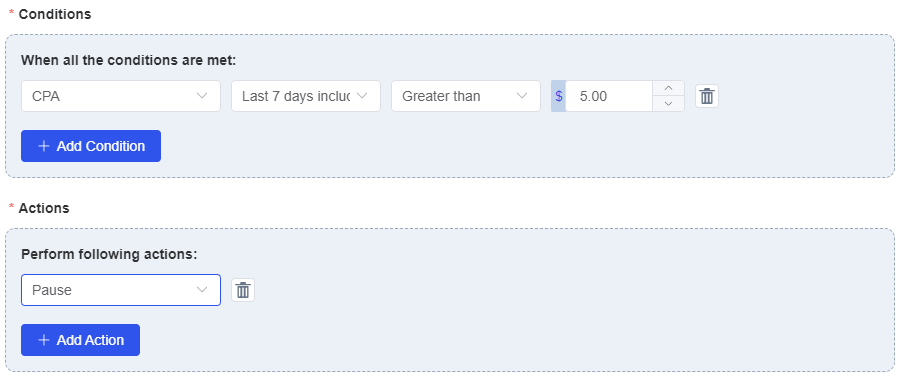 Summary Of Advanced Automation Rules
AppAds allows you to eliminate manual effort on daily duties, allowing you to spend that time to improve your Apple Search Ads strategy and avoid budget-eating activities. The automation rule may be used to all of the above-mentioned use scenarios.
Increasing the Bid: when the impression falls below a certain level, the bid is raised.

Adding Keywords as Negatives: when the ROAS of these keywords is insufficient

Decreasing the Bid: when the maximum CPA amount you set exceeds.

Pausing the Keywords: when the maximum amount for CPA you set is exceeded
Schedule a demo with us to save time on all manual activities and spend more time developing your plans! Begin optimizing your campaigns with many more features!