How To Leverage Search Tab Campaigns To Improve App Performance
Apple provides a "Suggested Ad" on the search tab, so how can advertisers use this ad placement to make as much profit as possible?
Home
ASA Blogs
As Apple's tagline, "
Reach customers before they search
", Apple Search Tab gives advertisers another place to show their apps, which is certainly a good chance for them. Let's take a closer look at this concept.
What is Apple Search Tab?
Apple expanded their Apple Search Ads portfolio on the App Store by offering a placement in the "Suggested" section of the
Search tab
. So while app marketers have always been able to reach customers in the results after they search for keywords, now you can get your ads in front of users even before they search.
This functionality opens up "keyword-free" advertising, meaning your ads will show based on your target audience (location, age, gender, and device type), and the ad copy will be generated from App Store metadata.
In addition to helping app marketers drive visibility and awareness at the appropriate time (as opposed to an always-on approach), search tab campaigns are a simple way to help users discover apps they may not have intended to search for. They also help you top off your conversions and audience pools.
So, does it function? Yes is the clear answer! So let's look at some methods you may employ to maximize the effectiveness of Search tab adverts.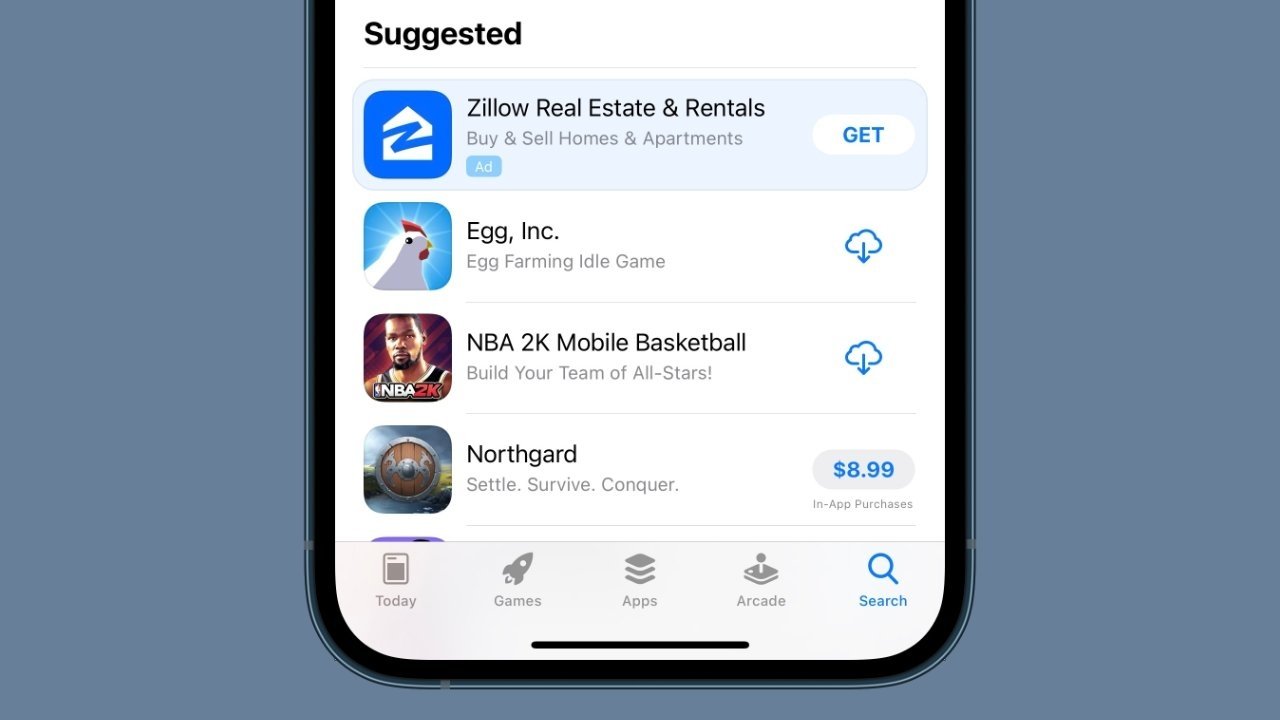 When is the Ideal Time to Conduct Campaigns for the Search Tab?
1. Seasonal Occurrences (Black Friday, Holiday, end of season sales)
Running a Search tab campaign can be a particularly efficient approach to increase sales in a condensed amount of time for app marketers in the retail, entertainment, and any other industry affected by seasonality.
Customers in your target audience will see your advertising before they search. By giving you the most visibility possible, strategies like these aid in gaining a competitive advantage.
2. Important business events (product and app launches, new entertainment or gaming releases)
Similar to seasonal times, any company event might need a boost, particularly in a crowded market.
If you are marketing a streaming entertainment app and a new season of a streaming series is about to premiere, you may gain traction by encouraging downloads prior to the release date by using Search tab advertising.
You can increase conversions by following this up with a search results campaign using the show's keywords.
3. Addressing particular audiences
They are a fantastic way to attract new users, returning users, or users of your other apps because Search tab advertising leverage target audiences.
Perhaps there are consumers in the aforementioned example who stopped using the service after the previous season finished.
Your integrated media strategy can be complemented by search tab advertisements, which can remind returning customers to re-install before the start of the next season once you've increased market awareness.
4. Push for brand/awareness activities
Of course, anyone, whether you are a well-established company or just starting started, can profit from more exposure.
Budgets are typically set aside for competitor advertising by brands. These can be expensive, and their conversion rates are frequently poor.
You can add value and assist in gaining new clients by using Search tab campaigns to target particular audience types. Consider them as an addition to the bidding on rival terms.
How can I Launch a Campaign Using the Search Tab?
A Search tab campaign is simple to set up. You may virtually skip the term miming and implementation phase if you're setting up a search results campaign.
Search Match is disabled since there are no keywords in the campaign setting. There is no need to give more information because Apple Search Ads will construct the ads using the assets (app name, icon, and subtitle) you've previously supplied to your App Store product page.
Conclusion
Ads are priced using a
cost-per-thousand-impressions (CPM)
system.
There is no minimum spend, and using both an overall campaign budget and a daily cap, you may decide how much you're willing to spend in total. Additionally, you will always be able to start, stop, or modify campaigns.